Make a Group or Corporate booking 07818 258 799
Please email or phone Andrea on 07818 258 799 to book a first aid training course for your group. These first aid courses are delivered at your venue for up to 12 participants per trainer. Invoices and certificates will be sent to one central contact in the business or group.
Group or Corporate Booking Price Guide
Bookings for corporate and group courses are charged at a basic rate for trainer time, travel, insurance and use of equipment for the course to run.
If you require an accredited first aid qualification (i.e. Emergency First Aid at Work) then an additional fee per student applies which includes admin costs and the fee we pay to the awarding body ITC for your certificate and course manual. So if you have 10 people at the time of booking and only 8 turn up on the day, we will not charge you for certificates not issued.
Individual Price Guide


Please note that rates can vary depending on course location; no VAT to pay; discounts available for multiple bookings

Basic rates for a group of up to 12 per trainer
Cost per accredited certificate
1 day course (i.e. Emergency First Aid at Work)
£360.00 - £470.00
£15.00
2 day course (i.e. Outdoor First Aid)
£620.00 - £740.00
£15.00
3 day course (i.e. First Aid at Work)
£820.00 - £970.00
£15.00
Additional EFAW certificate on selected courses
n/a
£10.00
Annual Skills Refresher/Basic Life Support (BLS)/AED
Variable/POA*
n/a
CPR & AED training for medical practices
Variable/POA*
n/a
Everyday first aid for the public/community groups/parents
Variable/POA*
n/a
Bespoke First Aid training courses
Variable/POA*
n/a
Please note that certificates will only be issued after payment has been received in full.
You can view full Terms & Conditions here
If you only need 1 or 2 spaces you can book on one of our open courses or get in touch direct as sometimes we have individual spaces available on corporate/group courses.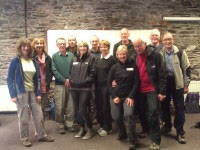 What we provide
all first aid training materials and equipment
1 manikin between 2 course participants on the day
a practical and fun training session
pre and post course telephone advice & support
And depending on the type of course
a comprehensive first aid training manual for each participant
a certificate of attendance or qualification on successful completion of the course
What you provide
a suitable indoor venue with enough space for participants to practice simulated incidents laying on the floor without bumping into furniture or each other
one key contact person in your organisation or group to liaise with us for easy invoicing and communication
refreshments during the day - although we always have tea/coffee and biscuits in the training van just in case ;-)
And depending on the type of course
access to a suitable outdoor space i.e. woodland, park or similar to practice first aid scenarios outside