(FAWR) First Aid at Work Requalification - 2 days/12+ hours
Re-qualification to keep a current First Aid at Work (FAW) qualification valid
In line with latest (October 2013) HSE regulations when based on your individual risk assessment
Candidates are only eligible for this shorter course to renew their FAW qualification if their current FAW certificate has not expired by more than 1 calendar month
Calendar month means if the expiry date is 5th of one month then the candidates have until 4thof the next month to enrol
Highly practical and contextualised for your workplace
Covers the topics of the full FAW course in sufficient detail to ensure that students are competent on completion
Please email or phone Andrea on:
07818 258 799
to book a course or visit the booking pages for more information and a price guide.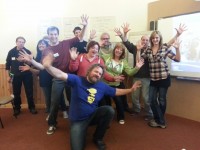 Please note: Candidates must supply their previous FAW qualification details before attending the course. If individuals book on, or are booked by an employer on the course with an invalid certificate, no statutory certificate can be issued. The FAW re-qualification can be taken up to 3 months before the date of expiry of your current FAW certificate.
The courses below are open for those needing individual spaces rather than a group course. Please contact Andrea by phone 07818 258 799 or email to enquire about availability and cost if not stated - thank you.
Open Course Dates
There are no open courses scheduled at present – please email or call Andrea on 07818 258799 if you require this training.