Wednesday 12th of June 2013
Paediatric first aid qualification on offer in Cumbria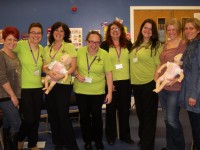 Some of my clients in Cumbria told me that it can sometimes be tricky to find individual spaces on paediatric first aid courses as most are run in-house for bigger groups of staff.
I am now holding a 2 day paediatric first aid course on the weekend 17th & 18th August 2013 in Warwick Bridge near Carlisle. This course is suitable for anybody working in schools or nurseries needing an Ofsted approved qualification.
Maybe you have children or grandchildren and just want to learn the basics in a friendly and relaxed atmosphere? If you don't need a qualification you can join us just for day 1 of this course to learn infant and child first aid skills for your peace of mind.
Online booking is now available for this course. If you have more questions or just want to book on day 1 of this course please contact me direct on mobile 07818 258799 or email andrea@firstaidtrainingplus.co.uk.
News Archive
Click on a month to expand