Wednesday 3rd of April 2013
Spaces available on Outdoor First Aid course 23rd/24th April 2013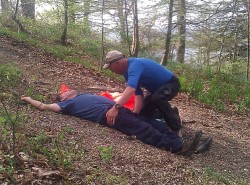 Does your outdoor first aid certificate need updating? Or maybe you are a keen outdoor practitioner wanting to learn those important life saving skills when playing outside? Do you take kids outside for outdoor activities?
Then you might be interested in our next 2 day ITC Outdoor First Aid course, held on 23rd and 24th April in Kirkby, Merseyside.
The training will be held for a group of Forest School Practitioners and cover some child content in addition to the usual outdoor first aid content. The certificate gained on this course is also suitable to keep your National Governing Body Awards valid.
A few spaces are still available for £90 per person including a cooked lunch on both days.
For more information and to book a space please contact Andrea on mobile 07818 258 799 or email: andrea@firstaidtrainingplus.co.uk.
News Archive
Click on a month to expand