Sunday 15th of July 2012
Football Club Magazine interview with First Aid Training plus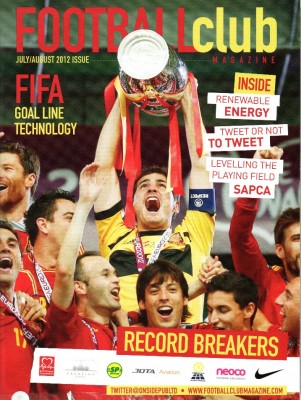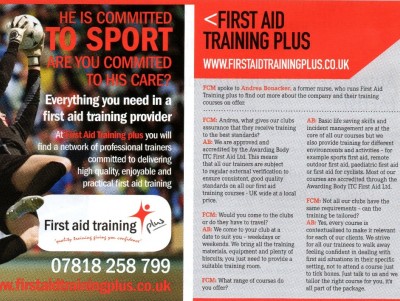 In their latest issue (July/August 2012) Football Club Magazine (FCM) highlighted the importance of filling stadiums with more trained life savers following the recent high-profile collapse of the Bolton Wanderers midfielder Fabrice Muamba. FCM highlighted the work of the British Heart Foundation and also spoke to Andrea Bonacker, a former nurse, who runs First Aid Training plus to find out more about the company and their training courses on offer:
FCM: Andrea, what gives our clubs assurance that they receive training to the best standards?
AB: All our accredited courses are delivered through the recognised Awarding Body ITC First Aid Ltd. Our network of committed trainers is subject to regular external verification to ensure consistent, good quality standards on all our first aid training courses - UK wide at a local price.
FCM: What range of courses do you offer?
AB: Basic life saving skills and safe incident management are at the core of all our courses but we also provide training for different environments and activities – for example sports, remote outdoor, paediatric or cyclist first aid - all delivered at your venue and on days to suit you.
FCM: Not all our clubs have the same requirements – can the training be tailored?
AB: Yes, every course is contextualised and highly practical to make it relevant and also fun for each of our clients. We strive for you to walk away feeling confident in dealing with first aid situations in your specific setting, not to attend a course just to tick boxes. Just talk to us and we tailor the right course for you, it's all part of the package.
FCM: Can you provide training on how to use a defibrillator?
AB: Yes, we can provide training on basic life support and the use of a defibrillator as a standalone course or build it into any of our other first aid courses at no extra cost.
News Archive
Click on a month to expand