(FAW) First Aid at Work - 18hrs/3 days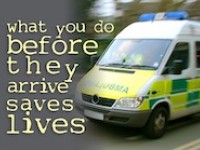 Employers are required by the HSE to assess first aid needs appropriate to the circumstances (hazards and risks) of each workplace and choose a suitable first aid training course for their staff accordingly
Overview
The FAW course is one of the statutory qualifications for this purpose. The content is prescribed by the HSE. It covers everything from the shorter EFAW course plus additional content for staff that may need to manage casualties with major injuries or medical conditions until emergency services arrive.
The training is highly practical, contextualised for your workplace and suitable for those working in higher hazard environments requiring more comprehensive first aid cover such as manufacturing and construction or companies with higher numbers of staff.
Other training you may also need to consider in addition or instead of FAW/EFAW:
Paediatric First Aid for working with infants and children to meet Ofsted and EYFS regulations
Sport/Activity First Aid for coaching professionals
Course timings
09:00 – 16:00 (on each day)
Course content
This course consists of two units leading to the FAW certificate
Unit 1: Emergency First Aid in the Workplace is the same content as the EFAW course
Unit 2: Recognition & Management of Illness and Injury in the Workplace additional content for FAW:
Administer first aid to a casualty with
injuries to bones, muscles and joints, including suspected spinal injuries
chest injuries
severe burns and scalds
eye injuries
sudden poisoning
anaphylactic shock
Illness recognition and management including heart attack, stroke, epilepsy, asthma and diabetes.
Assessment
There is no longer a final practical examination on this course. Instead continuous tutor observation and assessment of candidate practical technique takes place throughout the day. This is recorded as the course progresses and also includes a short written multiple choice questionnaire at the end.
Qualification/Certificate
ITC Level 3 Award in First Aid at Work (QCF) - valid for 3 years
Please note: Candidates only needing an EFAW qualification can aquire this by successfully completing just day 1 of the FAW course.
Course accreditation
This course meets HSE regulations based on your first aid needs assessment. It is accredited by the Awarding Body ITC First Aid Ltd and regulated by OfQual.
How often do I need to be reassessed to keep my training valid?
The FAW qualification is revalidated by completing a 2 day/12 hour First Aid at Work Requalification (FAWR) course, providing the existing FAW certificate is within its valid lifetime. The FAW Requalification can be taken up to 3 months before date of expiry. In addition the HSE highly recommend that first aiders undergo an annual 3-hour first aid refresher course.
Booking a course
In-house first aid training can be delivered at your venue for groups of up to 12 per instructor. You just need a room (ideally carpeted) that is large enough to seat participants but also to allow them to lie on the floor with enough space to practice simulated incidents in pairs.
If you are unsure of the appropriate level of first aid training for you or need a first aid course more specifically tailored to your activities please email or call us on 07818 258799 to discuss your requirements – we are happy to help.
Open Course Dates
There are no open courses scheduled at present – please contact us or call us on 07818 258799 if you require this training.